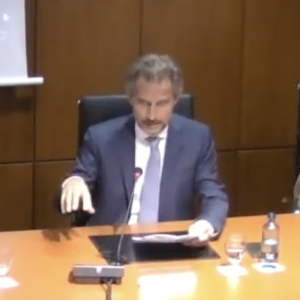 On June 20th and 21st, the Universities of Barcelona and Rovira i Virgili organized a conference bringing together distinguished professors in public international law.
This webinar, celebrating the 50th anniversary of the Stockholm Conference, was an opportunity for speakers to reflect on developments in international environmental law over the past 50 years, environmental multilateralism and lessons from the 1972 conference for the future.
The various speakers addressed, inter alia, the following topics: the definition of the main principles of environmental law, the participation of civil society in environmental protection, the transboundary aspect of the protection of the atmosphere and the protection of the seas and oceans.
Yann Aguila, President of the Global Pact Coalition, closed the event, talking about of the future of international environmental governance and the environmental responsibility of all.
He presented the draft Global Pact for the Environment whose objective was to enshrine environmental rights and duties in a single instrument serving as a reference for all actors: citizens, businesses and States.
Multilateralism is not up to the environmental crisis we are experiencing. The opposition of the US and Russia, for example, during the negotiations on the draft Global Pact for the Environment, is a good illustration of this.
However, the ongoing negotiations around the resolution on the right to a healthy environment in New York are more promising. If it were to be adopted, this resolution could allow the draft Pact to return to the international scene.
During his speech, Yann Aguila commented on current environmental governance. At the core of the problem seems to be the question of the sovereignty of States: it is absolute in international law and often opposes the adoption of laws necessary for the well-being of all, especially in environmental matters.
To respond to this, one way is to provide international organizations with normative power in this area. The role of the national judge is also not to be neglected: he can and must be the guardian of the State's commitment, to allow a real fight against the environmental crisis.
You can find the recording of the seminary at the following link : Seminario "Estocolmo 1972: Cincuenta años de Derecho Internacional del medio ambiente" – Zoom