The global stocktake of the Paris Agreement (GST) is a process for taking stock of the implementation of the Paris Agreement with the aim of assessing the world's collective progress toward achieving the purpose of the agreement and its long-term goals (Article 14).
Climate impacts are occurring at an unprecedented scale and scientific reports confirm that we are far off track to keep global warming below 1.5°C. The GST is a crucial opportunity to change course from the dangerous direction we are headed, as it can effectively inform the change that is needed towards achieving the long-term goals of the Paris Agreement.
The Global Pact Coalition is endorsing this submission on views on the approach to the consideration of outputs component of the first Global Stocktake. It recommends that the considerations of the outputs component of the GST should focus on discussions that will culminate in three commitments: a full and equitable fossil fuel phase-out, the implementation of a human rights-based and intersectional approach, and lastly, an enhanced public participation and protection of environmental defenders.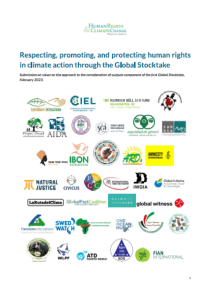 Link to the brief: Human-rights-in-the-GST-joint-submission-February-2023
The brief was submitted in February 2023 to the UNFCCC in response to the call for 'Views on the approach to the consideration of outputs component of the first global stocktake' by the following member organizations of the Human Rights and Climate Change Working Group:
EarthRights International, Center for International Environmental Law (CIEL), Heinrich Böll Stiftung Washington DC, CambiaMO, Raise Your Voice Saint Lucia, National Indigenous Disabled Women Association Nepal (NIDWAN), Indigenous Environmental Network (IEN), Project Dryad, Asociación Interamericana para la Defensa del Ambiente – AIDA, Soka Gakkai International, Civicus, Natural Justice, International Tibet Network, QUNO, International Work Group for Indigenous Affairs (IWGIA), Global Initiative for Economic, Social and Cultural Rights (GI-ESCR), Climate Refugees, Global Pact Coalition, La Ruta Del Clima, Shariatpur Development Society (SDS), Swedwatch, Franciscans International, Global Witness, FIAN International, IBON International, Brahma Kumaris, Women's International League for Peace and Freedom, Green Advocates International, Mano River Union Civil Society Natural Resources Rights and Governance Platform, Alliance for Rural Democracy, The Natural Resources Women Platform, Dibeen Association for Environmental Development, One Ocean Hub, Centre for Citizens Conserving Environment & Management (CECIC) Uganda, International Mouvement ATD Fourth World, Amnesty International, Equidad de Género: Ciudadanía, Trabajo y Familia (Gender Equity: Citizenship, Work and Family).