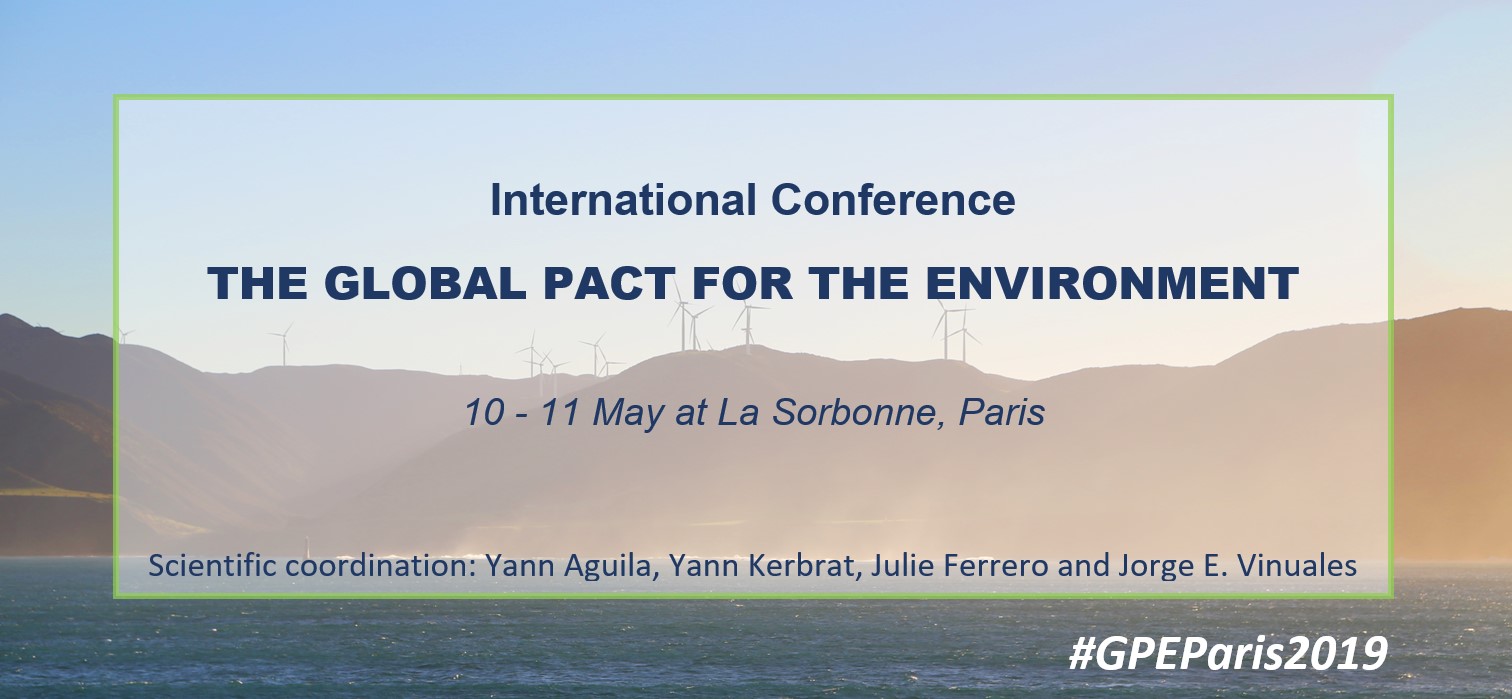 Following the release of the UN Secretary-General's Report in November 2018, discussions between States are ongoing on the need for a Global Pact for the Environment. The third and last session of the ad hoc open-ended working group took place from 20 to 22  May 2019 in Nairobi (Kenya).
A few days before this last session, the Sorbonne University hosted a conference to bring together international experts and exchange views on this important project.
Initiated by an international network of a hundred lawyers, the Global Pact for the Environment would gather the main principles of international environment law. It would contribute to the emergence of a global legal framework for the protection of the environment.
This conference is also part of the continuum of the collective publication, A Global Pact for the Environment – Legal Foundations, to which many invited speakers contributed.
Rights and duties
Influence on policy-making
Role for non-state actors
Implementation
Effect on domestic legal systems
The conference ended with the Sorbonne Call to Action for the adoption of a Global Pact for the Environment !
With the participation of :
Laurent Fabius, Former President of the COP 21
Yann Aguila, Sciences Po Paris, Virginie Barral, University of Hertfordshire, Edith Brown Weiss, Georgetown University, Neil Craik, University of Waterloo, Bahrat H. Desai, Jawaharlal Nehru University, Leslie-Anne Duvic-Paoli, King's College London, Jonas Ebbesson, Stockholm University, Julie Ferrero, Panthéon-Sorbonne University, Francesco Francioni, European University Institute Florence, Marie Jacobsson, Ministry for Foreign Affairs, Sweden, Walter Kälin, University of Bern, Yann Kerbrat, Panthéon-Sorbonne University, Luc Lavrysen, Belgium Constitutional Court Judge, Ginevra Le Moli, University of Cambridge, Sébastien Mabile, Avocat au Barreau de Paris, Makane Mbengue, University of Geneva, Jane McAdam, University of New South Wales, Pilar Moraga Sariego, Chile University, Nilüfer Oral, Bilgi University, Istanbul, Michel Prieur, Université de Limoges, Nicholas A. Robinson, Pace University, Jason Rudall, Leiden University, Hélène Soubelet, Foundation for research on biodiversity, Patrick Thieffry, Panthéon-Sorbonne University, François-Guy Trébulle, Panthéon-Sorbonne University, Jorge E. Vinuales, University of Cambridge, Christina Voigt, University of Oslo.