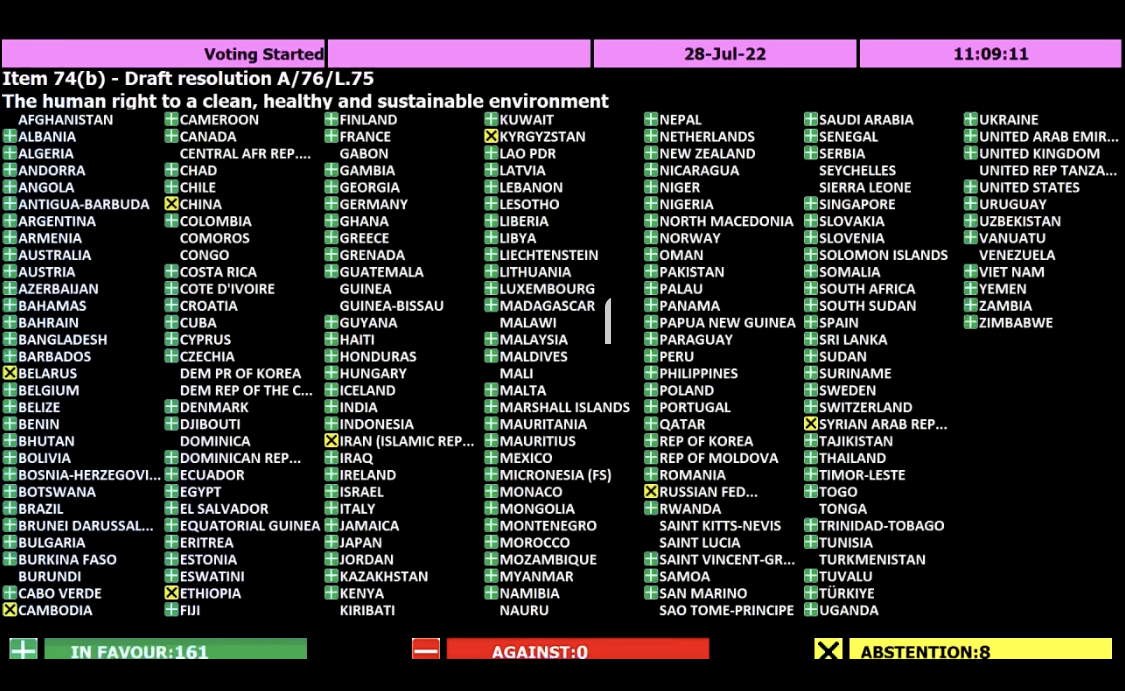 Today, at 11:10 AM (EST), the United Nations General Assembly adopted a resolution recognizing the right to a clean, healthy, and sustainable environment as a human right for all by a vote of 161 in favor, 0 against and 8 abstentions.
This resolution follows months of mobilization by civil society organizations, among which the Global Pact Coalition, and draws on Human Rights Council resolution 48/13 which recognized this right in October 2021.
The reaffirmation today by the UN General Assembly, legislative body of the United Nations, which includes all of its Member States, is a historic victory for environmental protection and a major step towards a human rights based approach in environmental litigation. It proves that multilateralism in international environmental law still has a role to play. 
While UNGA resolutions are not legally binding, this resolution is a strong political and symbolic message as it will participate in shaping and strengthening new environmental international norms and catalyze further environmental and climate action. Environmental protection is now considered as an essential part of human rights protection.
The Global Pact Coalition is proud to have worked with many other civil society organizations to secure the adoption of this important text. We applaud the tremendous leadership of David R. Boyd, Special Rapporteur on Human Rights and the Environment, and his predecessor, John Knox. We would also like to applaud the Core Group of States for taking the lead to ensure a healthy environment for all: Costa Rica, Maldives, Morocco, Slovenia and Switzerland.
This resolution is actually only a first step: now, such recognition must be combined with strong national, regional and international implementation mechanisms to fully strengthen environmental protection and protect people's health and the enjoyment of their other human rights. The implementation of the right to a clean, healthy and sustainable environment for all now requires ambitious public policies and new effective international instruments of implementation. 
Above all, this resolution could be the foundation for a more comprehensive international text on the right to a healthy environment and other environmental rights. This is the ambition of the Global Pact for the Environment. 
Yann Aguila, President 
Victoria Lichet, Executive Director